Girl's football 9th October 2023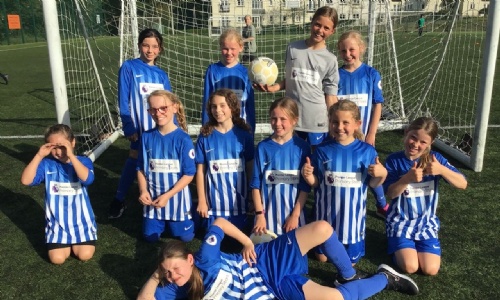 Key Stage Two Girl's Football competition.
On the last summer day of the year, Modbury girls football travelled to Manadon to compete against five other schools in the Plymouth Argyle cluster league. After just three weeks of training together, it was going to be a tough challenge against some very experienced teams from Plymouth. The nerves showed in the first game, for some their first game ever, going down to a heavy defeat. However, as the tournament progressed, they grew into themselves and the performances got better and better, with all the girls showing flashes of brilliance.
At the end of the day, a player of the tournament was selected by the other teams, and it was brilliant to see Evie get the award for outstanding sportsmanship when a girl on the other team was injured. Mr. Branch also was very impressed with the refreshingly positive mindset the girls had towards the tournament, getting comments from other coaches and teams about how well the girls approached the games.
A huge thank you to all the parents who gave lifts and permission for the girls to take part.